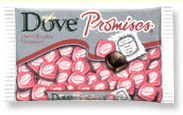 This morning I ate a piece of Dove Promises candy that I''d received as a gift. I noticed that there was a message printed in the foil wrapper. Was the message "You will find happiness with a new love" or "Your lucky numbers are 5 9 17 18 24 46"? No, it said
Get your feet massaged.
Do I really need to spoil myself some more? I'm already eating a bar of chocolate.